Upcoming Events: (for a complete schedule of events see - FPA events schedule

In the US the Virginia States is happening in Fredericksburg, VA (April 9-11, 2014) - VA States facebook group

The Paganello World Freestyle Challenge will take place in Rimini, Italy (17-21 April, 2014) - www.paganello.com

The FPA World Championships will be held in South America for the first time (July 31-Aug 3 2014) in Medellin, Colombia - www.fpaw2014.com

The European Freestyle Open Championships(EFO) will tentatively be held in Rome, Italy (May 23-25, 2014)
The American Freestyle Open Championships (AFO) will be held in Austin, TX USA (Nov 14-16, 2014) - www.americanfreestyleopen.com
---

Congrats to the 2013 FPW World Champs:
Open Pairs: Arthur Coddington / Jake Gauthier
Women's Pairs: Lisa Hunrichs / Cindy St. Mary
Mixed Pairs: Matt Gauthier / Lisa Hunrichs
Co-op: Matt Gauthier / Arthur Coddington / Dave Murphy

Event Results:

Mehrdad Housseinian & James Wiseman edged Freddy Finner & Alex Leist to win the 2013 Jik Jam in Cologne, Germany (Dec 22-23, 2013)

Yutaka Harashina & Masaki Hirashima won pairs and Ryuichi & Mayumi Suzuki won mixed at the Aichi Flying Disc Tournament, Aichi, Japan (Dec 1, 2013)

Andrea Meola & Valerio Occorsio won the 2013 Lazzaroni in San Lazzaro near Bologna, Italy. (Nov 23-24, 2013)
Arthur Coddington & Matt Gauthier won pairs and Jake Gauthier and Amy Schiller respectively won the men's and women's Turboshred at the 2013 Beach Stylers event in San Diego, CA (Oct 19-20, 2013)
Freddy Finner, James Wiseman & Tobias Burzan won the Autumn addition of the Berlin Hat event. (Oct 5, 2013)
Toby Kunzel & Markus Goetz stayed sober long enough to win the Octoberfest Jam event in Munich, Germany (Sept 28-29, 2013)
Alessandro 'dolcetta' Damiano & Francesco 'stordito' Lucci won the Anzio hat tournament at Rivazzura Beach near Rome, Italy (Sept 28, 2013)
Florian Hess won pairs with Freddy Finner and he also won co-op with Heiko Vogt & Sascha Hohne, Alex Leist & Judith Haas won mixed at the 'Spirit Camp' competition in Feriendorf - Eisenberg, Germany (Sept 7-8, 2013)
freestyle-frisbee.com News Archives: 2013, 2012, 2011, 2010, 2009, 2008, 2007, 2006, 2005, 2004.
---
---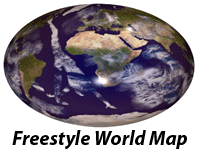 The Freestyle Frisbee World Map now includes links to real-time wind and weather conditions for over 50 Jam Sites! See the wind forecast or check current real-time temperature, wind conditions and web-cams for Jam Sites like: Berlin, Bologna, Seattle, Portland, Prague, Karlsruhe, Medellin, Tel Aviv, Osaka, Japan, Paris, Capocotta Beach, Sheeps Meadow - NYC, San Francisco, Palm Park, Gitis Beach, Puerto Rico, Linkoping, Rimini and Torino and many, many more!



---