Announcing the Official dates for the Tiny Room Battle Challenge 5!
Feb 6-7: Junior X-Disc & Challenger Divisions
Feb 13-14: Open Pro + Women's

What IS the Tiny Room Battle Challenge?
- 1 vs 1 freestyle battles held via Zoom and streamed live!
- 10 seconds to show your hottest moves
- March madness style bracket advancement
- Cash and OG plastic prizes

Click here
to see Amsterjam 2020 review and results!(July 24 - 25, 2020)
Kuba Radwanski of Poland edged out Francesco Santolin of Italy to win the Tiny Room Battle Challenge 2 via Zoom and Web Streaming. Eitan Rei Korin from Israel took the bronze. In the women's divison Juliana Korver defended her Tiny Room title by beating Paola Garcia from Colombia, with Meirav Pinhas from Israel taking the bronze. In the Challenger division Challenger: Santiago Piedrahita of Colombia won, with Michael William Galloupe and Kim David Larkin of American taking 2nd and 3rd respectively. Cyberspace, Earth (July 24 - 25, 2020)
Tiny Room Battle Challenge 1 featured 56 players from 4 continents battling in a 1-on-1 single elimination competition in real-time over Zoom and rebroadcast via live Web Streaming with the help of FrisbeeGuru. The first challenge took place in cyberspace during the height of the lockdown. Congrats to the winners - Pablo Azul who beat out fellow Colombian phenom Andres Garcia in the Open division, and to Juliana Korver who beat out fellow American Char Powel to win the Women's division.
Perhaps more important that the competition itself was the chance to bring the community together during these difficult times. Kudos to Daniel O'Neil, Ryan Young, Jake Gauthier and everyone who worked so hard to make it happen! Cyberspace, Earth (April 25 and 26, 2020)
Events that have been cancelled or postponed due to the Covid-19 Virus: Frisbeer Cup in Prague, the 44th Virginia States, the Italian Open in Roseto, Italy, Anzio Spring Jam, Jamvention Freiburg, the 20th Jammers in Jacksonville, Beljam in Ghent, Disc Days in Cologne, Trento Frisbee Festival, US Open in San Diego, Trnava Frisbee Games in Slovakia, Sandslash in Poland, FPA Worlds in Tel Aviv, Israel, Jam Britannia in London.
Edoardo Turri and Andrea Festi won the 'In den Hallen' freestyle event in Karlsruhe, Germany (January 5, 2020)
---
Featured Videos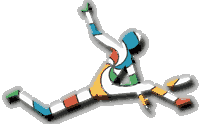 The Freestyle Frisbee Page - 'spreading the jam' since 1995!

Site maintained by Tom Leitner ( Contact Tom )

Frisbee is a brand name and registered trademark of Wham-O Inc. This site has no affiliation with Wham-O, Inc. ...