Congrats to the 2009 FPA Worlds Champs...

Lori Daniels / Sarah Bergman
Silvia Caruso / Valerio Occorsio (video)
Tom Leitner / Matteo Gaddoni (video)
Tom Leitner / Randy Silvey / Arthur Coddington (video)

Claudio Cigna / Fabio Sanna, Andrea Poli / Clay Collera' / Manuel Cesari and Fabio Sanna / Eleonora Imazio won the pairs, co-op and mixed pairs division respectively at Mazapgeul in Forli, Italy (Nov 28-29, 2009)

Manuel Cesari / Claudio Cigna won open pairs and Giovanni Coppo / Antonio 'Piccio' Cusma won pairs shred at the "J.I.K. Jam" in Cologne, Germany (Nov 14-15, 2009)

Dave Lewis / Dave Murphy edged out Jake Gauthier / Randy Silvey to win the Beachstylers event at Ocean Beach, San Diego, CA US. Randy Silvey and Carolyn Hubbard won the individual turboshred. (Nov 14, 2009)

Tom Leitner / Claudio Cigna edged Matteo Gaddoni / Fernando Botrugno to take pairs, Claudio Cigna beat out Andrea Stazi to win the shred and Claudio Cigna / Angelo Mancarella / Andrea Sarti won the Bonus Round at the 2009 'Vola Vola' freestyle event in Roseto, Italy. (Oct 17-18, 2009)

Pat Corasco & Deaton Mitchell edge out Mikey Reid & Jonathan Willet to take 1st at the Gulf Shores Jam. Gulf Shores, Alabama, US. (Oct 24-25, 2009)

Paul Kenny / Dave Murphy win the Arizona State in Scottsdale, AZ. (Oct 11, 2009)

Tom Leitner / Claudio Cigna won pairs and Tom Leitner / Matteo Gaddoni / Marco Prati won co-op the 'Lazzaroni' tournamet near Bologna, Italy. (Sept 26-27, 2009)

Andrea "Mr.M" Meola took first beating out Valerio "Wall" Occorsio and Silvia Caruso to win the "Barona King of Thousands" shred event in Milan, Italy. (Sept 13, 2009)

Tom Leitner / Edoardo Favorini won pairs and Luca "Moxie" Mazzucato / Edoardo Favorini / Mark Regalbuti won co-op at the Italian Open at Corallo Beach in Ostia near Rome, Italy. (Sept 5-6, 2009)

Christian Lamred / Florian Hess edged out Carsten Heim / Matteo Gaddoni to win Butch Cassidy Cup in Karlsruhe, Germany (Aug 29-30, 2009)

97 players from 11 countries competed for 4 days at The FPA World Championships in Berlin, Germany. (Aug 18-22, 2009)
See a Photo Gallery from the event.

Jens Friebe and Mehrdad Hosseinian won Crash and Bern Swiss Open in Bern, Switzerland. (Aug 8-9, 2009)

Florian Hess and Tobias Gebert won the Jam-and-Go event in Nuremberg, Germany. (Jul 18-19, 2009)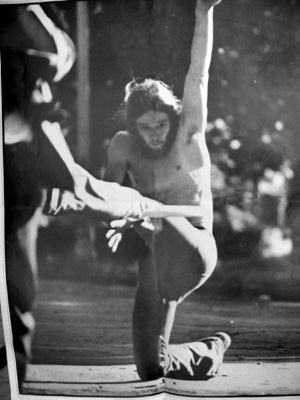 "Falling into Frisbee" an excellent article about the early days of frisbee in New York City by Kerry Kollmar. (July 22, 2009)

Claudio Cigna / Clay Collara' won pairs and co-op with Antonio 'Piccio' Cusma and Manuel Ceresa / Ilka Simon won mixed at the European Freestyle Championships in Bratislava, Slovakia. See the Photo Gallery from the event. (July 24-25, 2009)
Randy Silvey / Pat Marron / Dave Lewis won Open and Cindy Kruger / Lisa Hunrichs won Women's at the WFDF Championships held in Jacksonville Beach, FL US. (July 11-12, 2009)
The teams of Clay Collera' / Claudio Cigna and Andrea Poli / Manuel Cesari / Marco Prati won titles at the Italian Championships in Parma, Italy. (June 27-28, 2009)
Valerio Occorsio / Giovanni Coppo edged out Antonio "Piccio" Cusma / Matteo Feller to win the Vagolino freestyle challenge in Milan, Italy (Jun 13-14, 2009)
Jan Shreck and Anton Capellmann won pairs and Christian Lamred, Heiko Voigt and Carsten Heim won co-op at the German Freestyle Championships in Cologne, Germany (Jun 6-7, 2009) - watch the video of Jan and Anton
Carlos Lopez / Pat Marron edged out Larry Imperiale / Jake Gauthier / Paul Kenny to win at "The Jammers" event on Jacksonville Beach, FL USA (May 23-24, 2009)
Matteo "Gaddoz" Gaddoni / Luca Medri win the Bibione Freestyle Challenge. Bibione, Italy (May 2-3, 2009)
New Freestyle Frisbee Channel - freestylefrisbee.blip.tv
Gregg Hosfeld / Andrea Rimatori won the 'Torneo del Cappello' (Hat tournament) in Rome, Italy (Apr 19, 2009)
Toddy Brodeur / Pat Marron edged out Roger Meier /Joey Hudoklin to win at the Virginia States in Fredericksberg, VA USA. (Apr 18-19, 2009)
Just released! "Secrets of Pro Disc Freestyle Vol. 2" DVD
This instructional DVD covers the basics of creating the foundation of a solid freestyle game. (Mar, 2009)
---
Paul Kenny / Fabio Sanna won pairs, Joakim Arveskaer / Clay Collera' / Reto Zimmerman won co-op and Florian Hess and Judith Haas went dropless to win mixed at the Paganello World Freestyle Challenge as over 1,500 ultimate players and 40+ freestylers competed on the beaches of Rimini, Italy. (Apr 10-12, 2009) - watch the video of Florian and Judith

Anne Goh / Arthur Coddington won the San Francisco "Wintershred" tournament at Ocean Beach, San Francisco, CA USA (April 4, 2009)

Florian Hess / Christian Lamred edged Sascha Scherzinger / Carsten Heim to win the Freestyle Frisbee Masters in Dortmund, Germany. (Mar 14-15, 2009)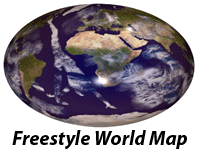 Where do freestylers play? See the New Freestyle Frisbee World Map for a list of 'Jam Spots' around the world. From old-school Freestyle meccas in Seattle, San Diego and New York to new meccas in Rome, Berlin and Prague.

Florian Hess/Tom Leitner won pairs and Balu Nemeth/Geri Major/Tom Leitner won co-op at the Frisbeer Cup where over 40 players from 7 nations competed in Prague, Czech Republic. (Feb 14-15, 2009)
See the Photo Album from the event. - watch the video of Balu, Geri and Tom
Pat Marron & Carlos "Pipo" Lopez won pairs and Pipo and Sarah Bergman won mixed at the Puerto Rico Winter Jam in Carolina, Puerto Rico. (Feb 13-16, 2009) - watch the video of Pipo and Sarah
And the 2008 FPA Worlds Champs are...
Cindy Kruger / Lisa Hunrichs
Amy Schiller / Dave Schiller
Tom Leitner / Dave Schiller
Clay Collera'/ Reto Zimmerman / Joakim Arveskaer

The 3 day Freestyle Jam Camp - The Los Angeles Jam Camp will take place January 2nd through the 4th, 2009
(Jan 2-4, 2009)

The 2010 News Archives, 2009 News Archives, 2008 News Archives, 2007 News Archives, 2006 News Archives, 2005 News Archives, 2004 News Archives, 2003 News Archives