2004 Freestyle Results - Invalides Open
---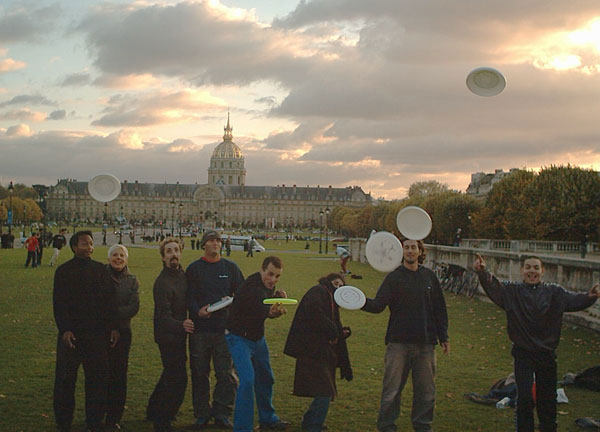 November 14, 2004
Paris, France
Paris is the most visited city in Europe and in the freestyle world the "French Freestyle Resistance", the "Disconauts" and the "Spin Collectif" have helped place Paris on the freestyle map as well. Right now there are several new mecca's for freestyle in Europe with Rome, Tel Aviv, Milan, Paris, Berlin and Amsterdam leading the way.
Last weekend the first freestyle tournament in France in over 20 years took place at Invalides in the center of Paris. Invalides is named after the hospital built for soldjers who were injured in the great wars and is located next to an impressive dome which holds Napoleon's tomb. The turf at Invalides is perfect and the wind is decent although it can change depending on the direction: It's best if the wind is coming from the North, it's decent if it's coming from the West or East, but it can be difficult if it comes from the South.
Invalides can be compared to the legendary freestyle fields like Palm Park, La Jolla Cove, Green Lake and Sheeps Meadow and although the wind is not always perfect the scenery is unbelievable - it could be the most beautiful field where freestyle is played year round in the World today.
While passing through Paris the weather forecast was good so we decided to plan small freestyle event. Placing 4th was Tom Leitner (me!), I did a solo routine but I finished early and received a costly 2 minute time penalty. There was a tie for 2nd place with David Lagouette and Karl Lombert and Vincent Lerasle and Arno Levenes ending up with identical scores. David is probably France's most talented player, his game combines strong center work with against moves and solid wind skills, his partner Karl is a new jammer who has reached a very high level in less than a year of playing. Vincent is an ex-skateboarder and surfer and is one of the few clock jammers in France, his partner Arno is the leader of the Disconauts ultimate/freestyle team.
Julien Rabarivelo has been freestyling since he was 8 years old, now over 20 years later he is known as one of the top players in France along with his partner Mouss Qabbal. Julien and Mouss hit lots of co-ops and showed a wide variety of skills. They were the clear winners of the Invalides Open - congratulations to Julien and Mouss!
Other players we jammed with at Invalides were Patrick, Michael, Jano, Jean Mark, Jerome and Eric.
Results

1. Julien Rabarivelo/Mouss Qabbal
T2. David Lagouette/Karl Lombert
T2. Arno Levenes/Vincent Lerasle
4. Tom Leitner