---
The Decade Awards: 1970's
Modern (1976-1979)
---
Top Men's Player: Erwin Velasquez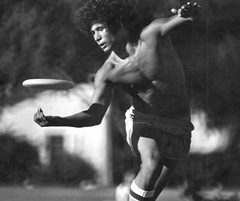 What is there to say that hasn't already been said about Erwin. He is truly one of the greatest players and performers of all time. His legacy lives on, fueled by his return to fame winning the US Open in 1994 Ft. Collins with Ted Oberhaus and Bob Coleman and also the 1995 FPA Co-op title with the same team. His high flying style and precise method of play made him the original freestyle god.

Top
---
Top Women's Player: Laura Engel
Laura got hot and didn't cool off for a very long time. Her long tipping combinations and restricted catches set her apart from the rest of the field. Had an impressive run of victories in the Rose Bowl and FPA's. Had a return to form of sorts when she returned to win the 1986 World Disc title with g rose.

Top
---
Best Open Team: Jens Velasquez and Erwin Velasquez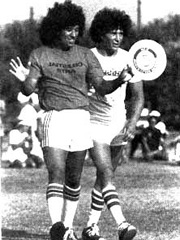 The "V Bros" took the momentum of their 1976 Rose Bowl win and followed it up with another Rose Bowl victory in 1977. They kept a high standard of play into the 80's. Their acrobatic style, long tipping combinations and quirky moves solidified their spot as the best team of the era. They started the new wave of highly skilled modern freestylers. The ante would be upped later with the 1978 Rose Bowl win by Evan David and Corey Basso. After that, the sp Port would forever be drastically different. But to be sure, the "V Bros" were the standard others looked to.

Top
---
Top Routine TIE: Erwin Velasquez/Jens Velasquez Rose Bowl 1976 &
Dave Marini/John Jewell Santa Barbara Finals 1979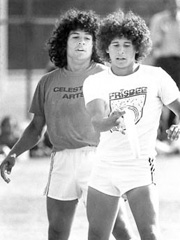 Erwin Velasquez/Jens Velasquez Rose Bowl 1976:
Erwin and Jens rose above the competition that fateful day. The strongest team in the field was Doug Corea and Dave Marini. After the hottest freestlye ever in history during the semi finals, the bros kept the best for last. No one could stop the "V Bros" express that day. They won the title convincingly and never looked back. Erwin was excellent at acrobatic moves often flying through the air. Jens was the consummate teammate and compliment with laser accurate throws and creative moves. It was captured on film and became part of the legend of disc play.
Dave Marini/John Jewell Santa Barbara Finals 1979
JJ and Dave did the improbable. The tournament was running way late and darkness fell on Storke Field. There was still one team to go in what had been a great final, the highly touted team of John Jewell and Dave Marini. People pulled their cars up to add any light they could. Even that was minimal and had a negligable effect. They played out of this world and seemed to be on sonar as they pulled off every move in their repertoire to seal the victory. Those who were there were in stunned disbelief. Interestingly enough JJ would follow those theatrics with another hot under the lights routine with Rick Castiglia in the 1980 Indian Summer tourney.

Top
---
Best Women's Team: Jane Engelhardt/Suzanne Strait
They were the first "rad chicks". Jane was the technical wiz and Sue was the graceful complement. They were the first women to do hard sustained combinations. Were also the first women to use a "consecutive" style which was part of their home club Washington Square Wizards game. Jane was intense and driven to perfection. Sue was more laid back but her skills and physical abilities were out of this world. The late 70's saw a flourish of competitive women but these two were without a doubt the very best of the crop.

Top
---
Best Mixed's Team: Corey Basso/g rose
The original mixed team. They won the innagural mixed division at 1979 Indian Summer and the subsequent FPA World Title in 1980. Both were at the cutting edge of skills and techniques at the time and formed a strong team. Used a heavy dose of dance influence into their routines and looked fantastic.

Top
---
Most Influential: Joey Hudoklin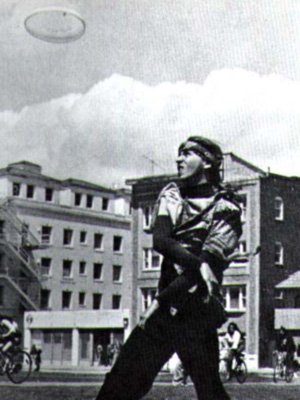 Joey was in the upper echelon of players in the late 70's. He was playing and competing as early as 1976. What set him appart from the rest was travelling to the west coast and showcasing long delay combinations and exquisite control. This would have a profound impact on people's perception of the game.

Top
---
Most Innovative Team: Washington Square Wizards Joey Hudoklin/Richie Smits
Joey and Richie were truly the very first modern freestylers. They were not alone in their quest as the myriad of talent from the Wizards and Central Park players pushed them and the sport to new heights. Some of the other notable names from that era were Jeff Felberbaum, John Dwork and Kerry Kolmar just to name a few. But it was Joey and Richie who were winning acclaim as they began to win tournament after tournament. Credit is also due to the Central Park freestlyers such as Krae Van Sickle, Freddie Haft, Clarence Braithwaite and Roger Meier.

Top
---
Most Innovative Player: Krae Van Sickle
A master showman and player wrapped up into one. An original Style master. His most prolific competition days are behind him. He has recently been "rediscovered" as the feature of the "Zen and the Art of Freestyle" video by Pat Rabdau. He created a wide variety of catches such as the Flamingitis and Scarecrow. Had mastered all the skills of play before he was 20 years old. His father Ken was a disc enthusiast and inspired his son to play. He is the original "Frisbee Baby". "The" consummate freestyler.

Top
---
Best Beach/Wind Player: Tom Shepard
"T Shep" honed his skills on the beaches of Santa Barbara where he teamed with Tom Kennedy. His long blond tresses and feathery touch made him the envy of many a young player who were quick to emulate the master. Probably the first person (along with partner Tom Kennedy) to realize the potential for the wind game. He was doing cuffs, glides, rides and other assorted modern wind techniques. One thing he and TK did that blew minds was at the end of their Rose Bowl Semifinal routine in 1976, they air brushed off the field of play together and kept going and going...

Top
---
Most Athletic Men: Tom Kennedy
Although not a pure freestlyer, Tom Kennedy gets the nod for his overall abilities which also transfered over to freestyle. "TK" was one of the original Disc Golf champions, a Self Caught Flight champion and most noteably, the Team Captain and kingpin of the juggernaught Santa Barbara Condors Ultimate team. There is little doubt that if his passion was for freestyle, he would have been a World Champion. Had a great touch with the disc. Adept at the wind game before it was common place. Great competitor in all regards.

Top
---
Most Athletic Women: Michelle Pezolli
Michelle was one of the original United Flyers of Sonoma (UFOS). Moved to Santa Barbara and teamed with Cyndy Birch. She was a very smooth freestyler and did her best under pressure. Was also skilled in all aspects of disc play. Was the original team captain for the World Champion Santa Barbara Lady Condors.

Top
---
Best Form Men: Evan David
Evan was simply beautiful to watch. He was a natural athlete and had a flair for style. He studied dance at Sonoma State and used it in unique and accessible ways. Originally from Santa Barbara and later a United Flyer of Sonoma. He and Corey Basso reset the standard of hot play. If he would have continued to play he would of no doubt been considered one of the best players ever.
video: Krae Jeff and Evan Rosebowl 80 semis

Top
---
Best Form Women: Suzanne Strait
A formally trained ballerina, her form was exquisite. She had flexibiity that was off the scale. Her Bad Attitude catch was over her head for crying out loud. Made a strong team with the athletic Jane Englehart.

Top
---
Most Under Rated: Brain and Matt Roberts
I don't know if they were so truely under rated but they played at an incredibly high level for a long time. Their normal third was John Jewell and they complemented his play perfectly. They were known for their strong play all up and down the west coast. Brian's tipping combos and Matt's aerail catches.

Top
---
Best International Player: John Anthony (JA)
JA teamed with the Kitsalono Koastal Kats (Jim Brown and Bill King). They were originally a bunch of eccentric jugglers who very quickly saw the potential for disc play. This team was also one of the most innovative and influential teams of all time. Credit goes to them for creating what was termed "micronesia", where players would stand in close proximity to one another and be able to perform high z throws and passes. John was the best player of the group however Jim and Bill were no slouches. JA honed his game while going to NYU playing with the Central Park gang and the Washington Square Wizards.These guys created the game called Kosmic Katastophies, a game of double paddidles. Jim was undefeated during his career. His ability to control both paddidles is still unprecedented. Bill was host of the travelling revue known as the "Bill King Show", putting on satirical theathrics during parties at tournaments. One of these shows introduced a young Modest Mutant with the moniker "Skippy Jammer".
Pre Modern '70-'75 | Top
---