---
The Decade Awards: 2000's - Introduction
As the 90's ebbed and the new millennia emerged there was a feeling that something precious, something important was being lost. The number of players who were attending tournaments was diminishing, new players were few and tournaments were faced with dwindling numbers. But an Ultimate tournament in Italy would change the direction of the sport forever.

In 1998 the Paganello Beach Ultimate Tournament in Rimini, Italy would offer Freestyle as an event. The impact of that seemingly simple idea was profound as an explosion in number of players, the quality of play and the passion for the game would redefine the game. American players Larry Imperiale, Paul Kenny, Tom Leitner and Arthur Coddington were all influential to the new European vanguard. Founding Euro jammers such as Jan Ekman, Clay Collera, Reto Zimmerman and Joakim Arveskaer would be viewed as visionaries. Fledgling Freestyle pockets would emerge across Europe and gel in ways that would have seemed unimaginable only 10 years before. There was no longer a new hope, this was a new beginning.

---
Men's Player of the Decade: Tom Leitner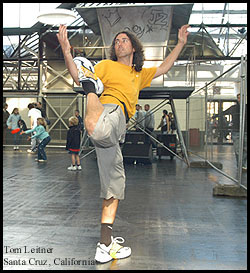 When Tom Leitner first went to Europe and discovered its potentiality one of his first priorities was to find every single jam there was in Europe. He would show up at a piazza jam in Rome, a turf session in Paris, a jam in Amsterdam and astound the unsuspecting local jammers. It was like Jimi Hendrix showing up to and crashing a garage band session. In 2004, Tommy would move to Rome and use that as his base. He was about to become one of the most influential players of all time and to have the greatest run of his already historic competitive career.
Tommy would amass 9 Majors, 9 Paganello's and be the #1 ranked Freestyle at the end of the year 4 times. However, the most significant contribution of Tommy Lightning's legacy would be his raising the bar for the next generation to achieve. But Tommy Lightning was not alone in his mastery. Arthur Coddington and Dave Lewis also have very strong arguments for being the best player of the decade. Arthur won 10 major titles during the 2000's. He too was a very strong influence for the new Euro Jammers patiently mentoring the young players so they could find their own form. His steady partner Dave Lewis also won 9 major titles and finished as the #1 ranked player in the world 4 times.

---
Womens's Player of the Decade: Lisa Hunrichs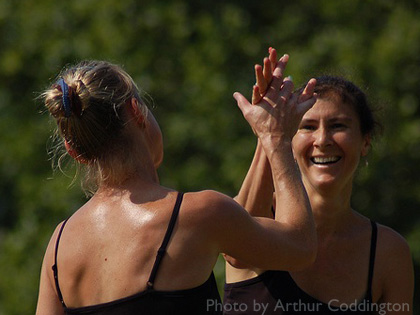 Lisa began the decade hot winning the 2000 FPA Women's Pairs with Mary Lowry and the 2000 FPA Mixed with Arthur Coddington. From there she never really let up winning a major title in 7 of the 10 years. She was also the #1 ranked player 4 times. This was the decade where Lisa found her groove with 10 major wins. During this time she matured as a player and refined a style that would feature splendid touch, high difficulty and long elegant lines. At the end of the decade it became apparent that she was one of the greatest women players of all time.

---
Pairs Team of the Decade: Arthur Coddington/Dave Lewis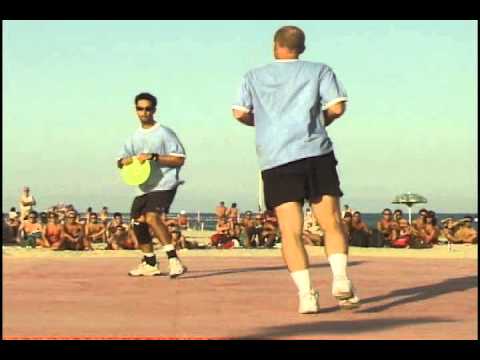 The top team of the 90's were far from done as Arthur Coddington and Dave Lewis won 3 FPA Pairs Titles, a WFDF Title and a World Disc Title to separate them from the pack. Matt and Jake Gauthier's back to back FPA Pairs Titles in 2006, 2007 proved they were no fluke and Jam Masters Tom Leitner and Dave Schiller teamed up for two FPA Pairs titles as well as a WFDF Pairs Title.

---
Top Pairs routine: Tom Leitner/Dave Schiller - 2005 FPA World's Seattle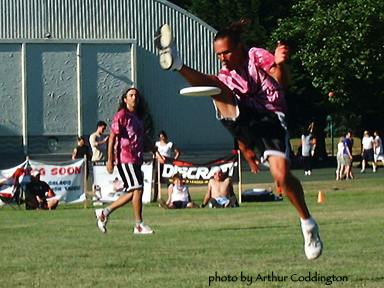 This routine was like two titans at the top of their game playing with passion and conviction. Their dropless routine was the thing of legend. There were other highly qualified routines that barely missed out for the top routine of the 2000's Arthur Coddington/Dave Lewis 2003 FPA Worlds. They were highly tuned veteran champions who used their immense feel and finely tuned instincts to battle the swirling winds to perfection. Matt and Jake Guathier 2006 FPA Worlds Berlin. The "G" Bros broke through in a big way playing with confidence to announce their arrival as a force to be reckoned with.

---
Top Co-op routine: Collera'/Zimmerman/Arveskaer - 2008 Bologna, Italy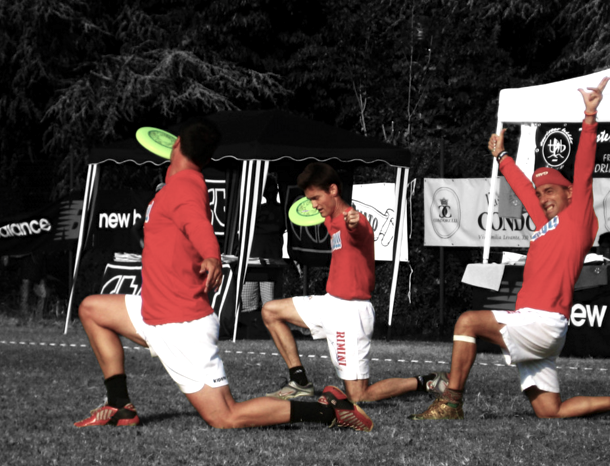 One aspect of the new Euro wave of jammers was the celebration of the old time Euro Jammers. But the team of Collera/Zimmerman/Arveskaer was far from a ceremonial teaming. These guys put together some finely crafted complex routines and executed them to near perfection. Their victory at the 2008 FPA Worlds was a stunning victory over a deep field. It was one of the most emotional wins ever as it was the first world title for each player. The three guys who helped lay down the foundation for the future of the sport drew some well deserved attention to not only their abilities but their generous spirit as well.

---
Top Mixed Team: Fabio Sanna/Eleonora Imazio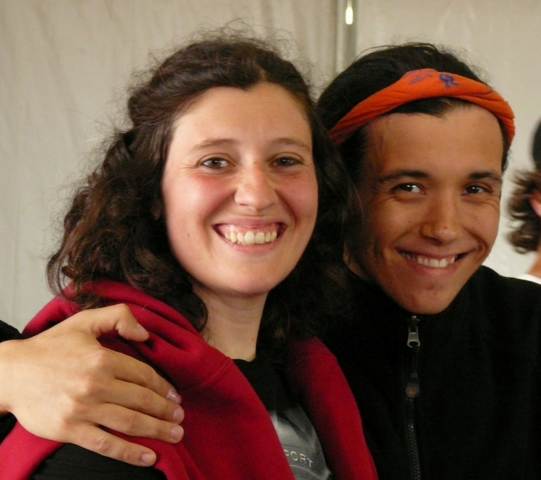 The young italian team of Fabio Sanna and Eleonora Imazio exploded on the scene winning the 2007 FPA World Mixed title in Bologna. It signaled a new beginning as the Europeans would go on to dominate this tournament and stake a claim as the 'new guard' for the next generation of players. Fabio and Ele would continue to play at a high level.
---
Top Mixed Routine: Dave Schiller/Amy Schiller 2005 FPA World's Seattle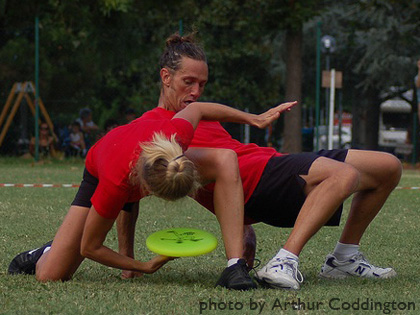 The veteran team of Dave and Amy Schiller showed everyone how it's done as they took the Mixed title at the 2005 FPA World Championships, their only drop coming with 5 seconds left in the routine.

---
Top Women's Team: Lisa Hunrichs/Cindy Kruger
The top Women's team of the decade is without question Lisa Hunrichs and Cindy (Kruger) St Mary as they won the FPA women's paris title 4 times including 3 in a row from 2003-2005.

---
Top Women's Routine: Lisa Hunrichs/Cindy (Kruger)
St Mary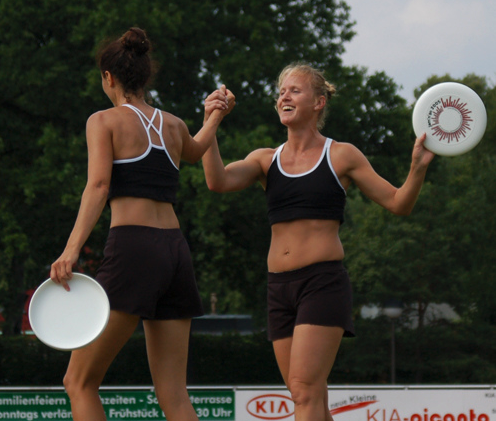 (2008 FPA World in Bologna) After a series of good routines that fell short of their high standards Lisa and Cindy finally came through with a crushing performance at the FPA Worlds in Bologna."
and
(2005 FPA World in Seattle In may what have been their greatest performance Lisa and Cindy crushed their routine and the rest of the field winning by an unheard of margin of 16 points over the 2nd place team.

---
Most Influential: Larry Imperiale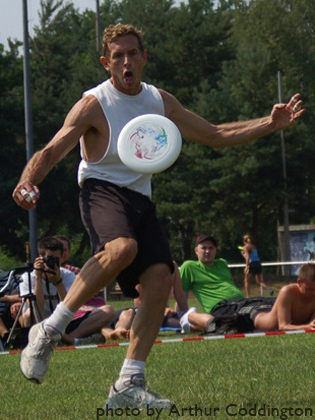 Larry Imperiale is one of the most important freestylers of all time. His experience goes back in time to some of the beginnings of the modern game. After being mentored by some of the old crust masters he took it upon himself to mentor the next generation and the next generation after that. He was one of the few americans who could become a fixture in Europe, rarely missing an opportunity to play in a big tournament over there. You can see his influence in how many new young players try to emulate the master with their brushing, kicking and roll games.

---
Most Innovative: Paul Kenny
There is little doubt that PK's game is distinctive and unique. Not only is he the master of the turnover he has innovated numerous new moves and variations as well. The young Euros are quickly adding his moves to their expanding repertoires.

---
Best Beach/Wind Player: Pipo Lopez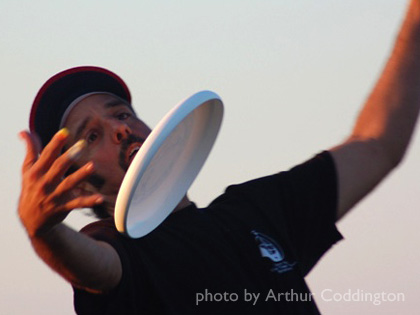 Pipo Lopez is the consummate wind master. When the breeze stiffens and players head for cover Pipo takes it up a notch. Years of playing on his native Puerto Rico beaches have honed his skills to a fine edge.
Honorable mention for exceptional wind players go to Tom Leitner, Larry Imperiale and Paul Kenny as well as Sarah Bergman.

---
Most Athletic: Matt Gauthier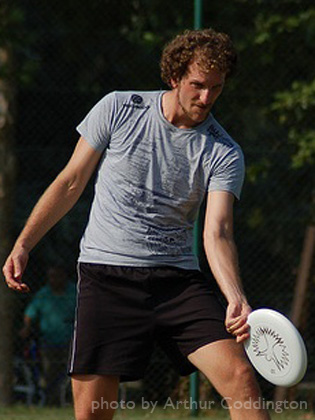 Note Matt's aggressive approach to play, especially when he's a bit late on a catch or move. He has cat-like quickness, excellent instincts and a cool calm no matter what the situation is. All reflecting his experience as a former Soccer Goalie. I'm fairly certain he feels as though he made the right choice by changing round balls for flat ones.

---
Most Athletic Women's: Bianca Strunz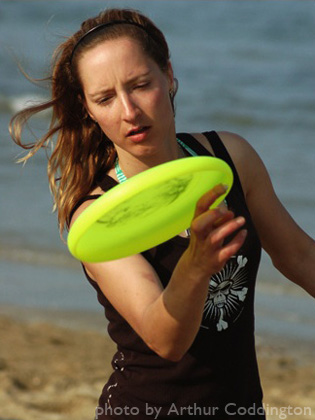 Bianca looks like she would be at home on a football pitch, a basketball court or in a Triathlon. She moves like a cat and has an aggressive approach to the game reminiscent of Seattle's Brenda Savage.

---
Best Form Men's: Pat Marron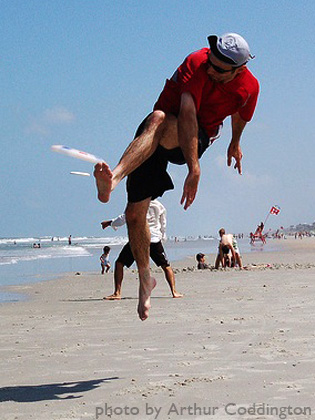 Pat Marron has almost perfect form. He has as high a level of difficulty in his game as anyone but makes it all look effortless in his pursuit of the perfect shred. Watching Pat's long lines and incredible timing and balance is like watching a clinic on how to be the perfect freestyler.

---
Best Form Women's: Eleonora Imazio
Ele's elegant form and sense of the dramatic makes for some of the most interesting freestyle play in the game today. She is always in great form, always balanced and always poised as she goes through her individual moves and co-ops.

---
Top International Player Men's: Fabio Sanna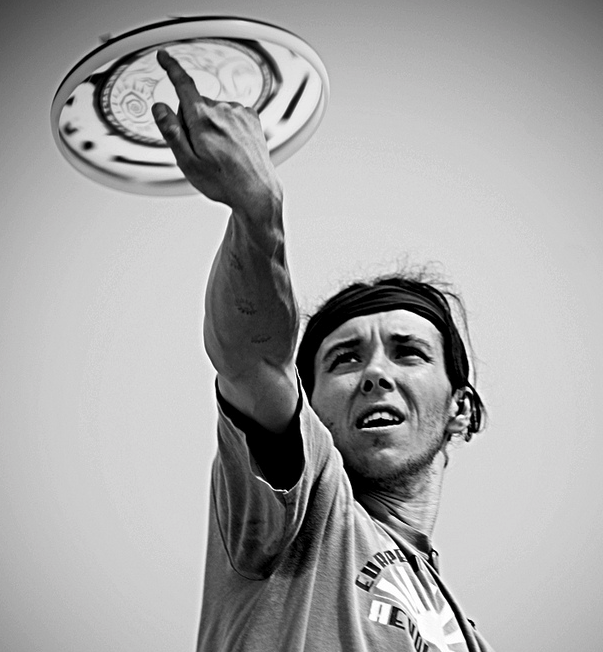 All the previous beliefs about developing a top player went flying out the window when Fabio Sanna decided he wanted to be an elite player. In a span of only 2 years he was performing at the highest level of the game. As the yeawrs have progressed he is staking a claim to be added to a short list of all-time greats. He has technical ability and innovation far beyond his years. Add perfect form, tremendous balance and a flair for the dramatic and you have the new protype shred master.

---
Top International Player Women's: Eleonora Imazio
Elie Imazio didn't so much emerge on the freestyle rankings and results, she exploded! She quickly set new standards of play with her elegant style and thoughtful presentation. World Titles in Mixed with partner Fabio Sanna in 2006 at the FPA Worlds and in Women's in 2007 with partner Silvia Caruso were two signficant highlights for her. But the biggest accomplishment is finishing as the #1 ranked Women's Freestyler in the World for the last three years.

---
Top Performance: Dave Schiller - 2005 FPA Worlds Seattle
Seattle FPA Worlds, Seattle. Open Finals. dropless. 1st Place. Co-op Finals. Dropless, 1st Place. Mixed Finals. Dropless. 1st Place. Three World Titles in one afternoon with three dropless performances made this the greatest freestyle performance of all time. This record can never be exceeded, only tied.

---
Jambassador: Steve 'The Beast' Hayes
It is impossible to imagine what the sport of Freestyle would be without the indomitable spirit of Steve Hayes. He has travelled extensively touching as many people as he can with his graciousness, patience and loving spirit. There is not a single freestyler anywhere that has not benefited in some way from him.

1990s | Top