---
The Decade Awards: 1970's
Pre Modern (1970-1975)
Introduction
FI have split the 70's decade into two distinct divisions. The advent of modern freestyle technologies radically redefined the sport. The innovation and/or perfection of the nail delay and air brushing was the start of the Post Modern era. A more accurate description of the 70's would be pre-modern (1970-'75) , Modern (1976-78) and Post Modern (1979). For practical reasons, I have eschewed this approach. Another note of relevance. Many players career's peaked during an overlap in decades. For instance: Jane Englehart and Suzanne Strait were the most dominant team in women's freestyle from 1978-1982. I have tried to mention players in this case towards the part of the decade they played their best or had their best results. I have also given credit to performance during major or significant tournaments. As mentioned, this list is brief compared to the depth of the field and scope of play.

The 70's were a time of innocence. Initially people were doing tricks in an isolated manner. The advent of tournament play acted as a great melting pot of ideas. As people from different areas got together they had a synergistic approach on the game. The end result was light years away from the simple game of throw and catch. As I noted above, the decade is split into two distinct categories. Certainly, the innovation and perfection of modern freestyle techniques (nail delay, airbrushing, tipping and restricted catches) radically changed the sport. With this new found approach, the number or participants boomed. It was during the later part of the decade that the sport experienced it's most profound period of growth. Indeed for sheer numbers of players, the sport has never approached this level. At the very onset, the techniques could be mastered during a short period of time. As the game became more elaborate and the learning curves of the modern player more full, it was to become extremely complicated and specialized. That in itself was reason enough for the numbers to dwindle. To be sure though, this was a time of innocence and also a time of fruition and discovery.


Top
---
Top Men's Player: Ken Westerfield
Big, strong and athletically gifted. Known for his overall skills as well. His forehand power throw in particular is probably still unmatched for sheer power. His freestyle skills did not take a back seat. He was adept at intricate moves especially in the speedflow game. He was also an innovator. It is believed that he was the first person to do a body roll. The hottest move of the day was called the "Canadian Mind blower" which was a front roll to a foot tip to a backroll.

Top
---
Top Women's Player: Gail McColl
The original women's freestlyer. Toronto born and bred. She started playing on the beaches in the early 70's and later honed her skills in tournament play. Was not allowed to compete in the open competition because she took points away from the men even though there was no women's division. Helped to create the women's division. She had skills in many techniques. One of the first women to tip, nail delay, air brush and body roll.

Top
---
Top Open Team: Dan Roddick/Irv Kalb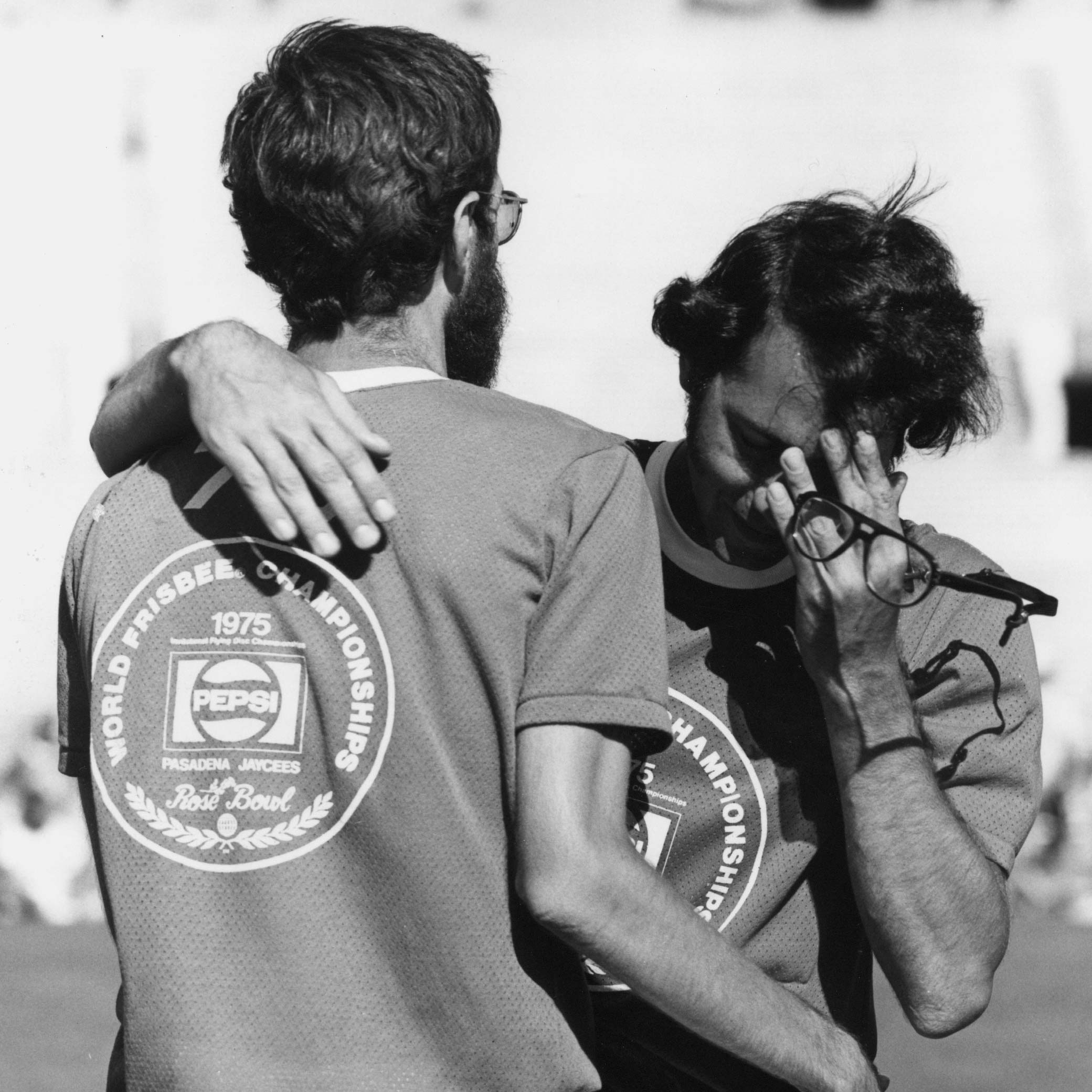 Stork and Dr. I were the most prolific innovators of their time. Some on their innovations were the Mid flight Attitude Change (MAC), the Air Brush and the "Intolerable Delay" aka the paddidle. They played well in tournaments winning the next four consecutive tournaments, culminating in the first World Pairs title in the 1975 Rose Bowl. They set the standard others aspired to. Dr. I would later work with Tom Kennedy to create the Ultimate Players Association and co-author a book with TK on the subject. Roddick would later be indelibly connected to the sport in innumerous ways. Most notably, director of sports for Whamo, Director of the International Frisbee Association and Director of the World Flying Disc Federation. He would run the Rose Bowl tournaments and later the initial US Opens.

Top
---
Top Routine: Ken Westerfield/Jim Kenner Canadian Open 1974
Considered the greatest speedflow game of all time. Ken and Jim put on a clinic to cap off a blistering hot final by all of the teams. This was also the very first formal freestyle competition ever. Ken and Jim featured a rhythmic and dynamic style with concise catch and throw combinations. These two gentlemen are credited with creating formal freestyle competition. The 1973 Canadian Open did not have freestyle as an event. They were able to finally convince the tournament director to go forward with their plan. The end result made history.

Top
---
Most Influential: John Kirkland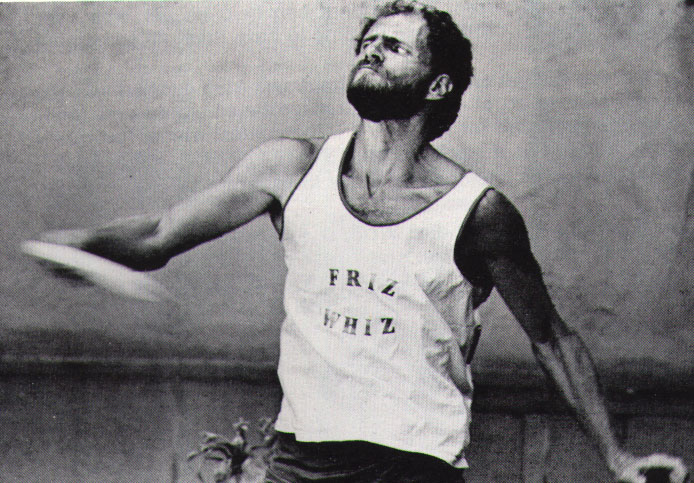 What would any list of flying disc sports be without the immitable John "Friz Wiz" Kirkland. He's the grand daddy of all disc players. According to him, he's invented everything. Without a doubt, he was integral in the development of the csport. Whether it was in his exploits during tournaments or his showmanship during the famed "Globetrotter Tour", it changed the game. It is also certain that disc sports were a natural avenue for his talent and abilities. lntensely competitive, he was driven to perfection. Although winning major titles proved elusive, was it not for his raw energy and strong will the sport would not have progressed as quickly as it did. He drove his fellow competitors to play better and better. John Kirkland is not the stuff of legends. Legends are the stuff of John Kirkland.

Top
---
Most Innovative Team: Dan "Stork" Roddick/Irv "Dr. I" Kalb
See above.

Top
---
Most Innovative Player: Kerry Kollmar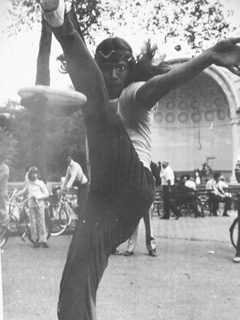 Kerry was a style master before there was such a thing. The old Washington Square Wizard was way ahead of his time. He is credited with innovating the nail delay and the airbrush. Indeed, he was at the cutting edge in almost every way. It is with Kerry Kollmar that we acknowledge the advent of the modern era. He was the first person to do consecutive moves and would influence a whole new generation of freestylers such as Joey Hudoklin, Richie Smits and Jeff Felberbaum.

Top
---
Best Beach/Wind Player: Spider Wills
Spider Wills is probably the most enigmatic freestyler of all time. He would spend endless days at Laguna Beach in southern California, feeling the magic of disc and wind. While he didn't necessarily create any new techniques, he was the first person to prefer a windy environment to further his skills.

Top
---
Most Athletic: Doug Corea
The first person to start to realize the potential of catching air. Played with Dave Marini to create a formidable team. Doug's career was essentially brief but had a tremendous impact on the game.

Top
---
Most Athletic Women: Monica Lou
Monica was simply a natural athlete. Skilled and adept in a variety of events. That also transfered to freestlye play where she was no doubt the first "turbo queen". Later stopped playing to persue a successfull rock climbing career.

Top
---
Best Form Men: John Weyand (aka "Dreamer, Z")
The innovator of the upside down air bounce throw aka the Dream Shot. He had seen the throw while in a REM dream state. Also a great flow master. He was quick to learn new tricks and make them his own. Later became a beach jamming guru. Z is still heavily involved in freestyle. He is known as the "Genesis Man" due to his historic status and continued influence on the game.

Top
---
Best Form Women: Gail McColl
Hard to top Gail McColl here. The original woman stylist was great in all facets of the game.

Top
---
Most Under Rated: Victor Malafronte
Victor was a cornerstone of the sport of freestyle from the get go. He started out as the king pin of the Berkeley Frisbee Group and helped influence a whole new generation of players. He was also the counterpart to John Kirkland during the famed Globetrotter Tour.

All-Time Greatest | Top