---
The Decade Awards
1980's Post Modern
Introduction
T he The 80's arrived on the coat tails of the highly charged 70's. It was during this period that the game came into full flower. There were a number of high profile tournaments which fueled and energized the sport. Participation numbers were still very high. The caliber of play and the escallating skill levels were reason enough to consider this the golden age of the sport.

---
Top Men's Player: Joey Hudoklin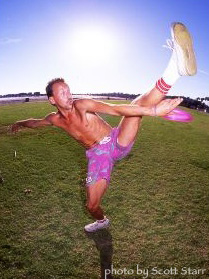 Simply known as the "King". He combines cat-like quickness and instincts with high technical prowess and enormous creativity to set himself apart from the competition. He was also the first person to truly master both spins. His move to Venice beach and later Santa Barbara melded the east coast/west coast styles. His level of play became so elaborate he created a whole new style: "Spawn-hein-ious". A flippant play on words to describe his style. He was able to "wire" an incredibly huge volume of moves and use them in an improvisation approach, much like a master jazz musician. This style of play was later used during championship play. With partner Chip Bell, they would go through their entire routine with no planned coops and make it look rehearsed. The best example of this play was during the 1987 WFDF Championships in Ft. Collins. He is considered the greatest player of all time.
video: Joey Hudoklin : The God of Freestyle Frisbee

Top
---
Top Women's Player: Kate Dow
Kate honed her skills in Santa Barbara with the likes of Joey, Richie Smits and the rest of the Palm Park gang. As her skills developed, so did her confidence. She is the first woman to break down the gender barrier. Was able to do and create state of the art moves such as the under the leg backroll. He touch and control was exquisite. She also had a successful mixed career with Dave Schiller, winning numerous mixed titles. Her lack of appetite for competitive play is in no way indicitive of her skills and abilities. Kate is one of the greatest women's player of all time.

Top
---
Best Open Team: Jim Schmall/Deaton Mitchell
Affectionately known as the "Bayou Blasters" Jim was from Shreveport LA and Deaton was from Baton Rouge. They came on the scene like gang busters. Exceptionally limber with skills to match, they were far and away the team of the decade. They looked like they were created in BioRad labratories. Also had a partner who was every bit the player they were in Daryl Allen. Their run of 4 consecutive pairs titles is unprecedented in the sport.

Top
---
Top Pairs Routine: Joey Hudoklin/Chipper Bro Bell WFDF Ft. Collins 1987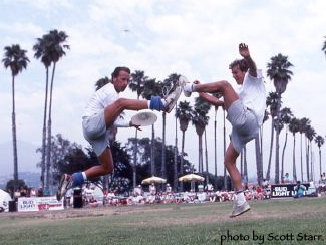 As mentioned earlier, this routine was a highlight reel of state of the art play. It is still storied in legend for more reasons than one and was the start of Joey's sweep of all major open and mixed titles during that year. Joey and Chip had been playing non stop together for years and came up with this masterpiece which was completey spontanious. We'll probably never see another routine like this ever during championship play.

Top
---
Co-op Team: The Coloradicals
Redefined the coop division with intricate play and a variety of skills on display. Also were the first ones to use team play on such a high level. Their routines were a miasma of interwoven movement choreographed to perfection with a heavy dose of risk. All three were excellent athletes who found their nitch in freestyle disc play. They would also went onto have successfull individual careers playing in both the open pairs and mixed divisions, showing their high competence of play in all regards. They are the best Co-op team of all time. They would still be winning major titles with their routines if for no other reason the routines were so visually stunning. Interestingly enough, there are few if any immitators probably becuase it to ňok so much discipline to perform their style of play.

Top
---
Top Co-op routine: The Coloradicals 1985 US Open La Mirada
This was the 'Rads at their very best. They were already the best team in the world and had been playing together full time since early 1980. The teamwork and interplay were in sync. The crowd and energy was incredible. They rose to the occasion and took the title home to Fort Collins.
video: Coloradicals US Open 1985

Top
---
Top Mixed Team: Joey Hudoklin/Kate Dow
This was the "Dream Team" before there was such a term. The best men's player and the best women's player together. They also knew each others game to a "T" as they were constant jamming partners at Palm Park in Santa Barbara.

Top
---
Top Mixed Routine: Gina Sample/John Houck 1984 FPA Worlds Minneapolis
Although not heralded as a classic mixed team, they did however pull off a big upset win at the FPA's in Minneapolis in 1984. This was Gina's debut. She hit every move she knew and they had a total of one drop. The routine had an elaborate choreography and used very tight music cues. This looked more like an ice skating routine with high concept and flair. It also had a great impact on style of play for the mixed division as future teams would have a higher level of choreography.

Top
---
Top Women's Team: Carolyn Yabe/Stacey Anderson
Dominated the middle and later part of the decade. Went undefeated from late 1983 -1988. Both played for the Grateful Disc club out of Fort Collins Colorado. They were inspired by their cohorts in spin, the Coloradicals and took the women's game to a whole new level. Their routines were highly choreographed with elements of dance, gymnastics and traditional athleticism. It took them a while to fully develop their game but after that, it was total domination.

Top
---
Top Women's Routine: Suzanne Strait/Jane Engelhardt
1982 World Disc Santa Cruz. This was Suzanne and Jane at their most inspired. Brought down a sold out Cabrillo Stadium crowd winning handily over the rest of the field.

Top
---
Most Influential: Donny Rhodes
Was way ahead of his time. He is certainly the smoothest player ever. He made the hardest moves look amazingly easy. Started out with the Washington Square Wizards and later moved to Austin Texas. If ever there was a natural freestlyer, Donny was it. Exceptionally limber with dance like balance and coordination. He had a incredibly wide variety of moves from which to showcase his skills. Interestingly enough, his two Rose Bowl titles in the 70's with two different sets of partners were his only major wins. He was the original "Free Agent'. Whereas most people had their regular partners, he would sometimes go out to the highest bidder. His play developed further as he matured from the "Donny Rotten" stage. Later went on to do elaborate Las Vegas stage shows with his wife Camille.

Top
---
Most Innovative Player: Rick Castiglia
"Casio" was a member of the famous Coloradicals Coop team. He was always very adept at all aspects of play and had a aptittute for technical skills. Although he was a world class player in his own right, he didn't really come into his own until he moved to the freestyle mecca of San Diego County and started to work out with the locals at La Jolla Cove. At this point in time, his game improved dramatically. So much so that for a while he was the very best player on the planet. Organized the "Art of Disc" team with Dave Schiller and Joel Rogers and went on a successfull run of back to back FPA Co-op titles ('89, 90). Also teamed with Stacy McCarthy (nee Anderson) to reset the standard of play for the mixed division. A techno weinie at heart, he was quick to embrace new moves and make them his own. Really one of the all time greats.

Top
---
Best Beach/Wind Player: John Jewell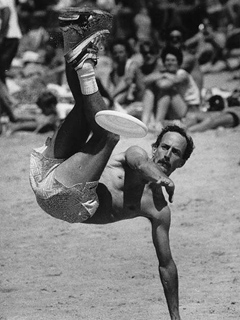 "JJ Mon" was the "King of the Beach". His exploits on the beach are the thing of legend. He was undefeated for a good ten years of beach play. Intenesly competitive and adept at all environments, he was a natural beach/wind player through and through. Excellent hands, great footwork and precise control where just some of the aspects of his game. JJ is storied in legend in so many ways it is difficult to ascertain what he was best at. Playing under the headlights, his exploits on the beach, his electric era, the initial creative surge of the 70's or his ability to always rise to the occasion. He is truely one of the fantastic players ever.

Top
---
Most Athletic Women: Mandy Carreiro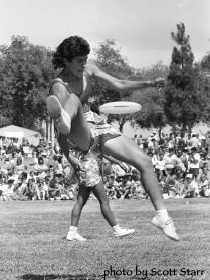 Mandy is another example of an excellent athlete that came up through disc sports playing Ultimate, graduated to Overall and then went for the deeper waters of freestyle. Never reached her full potential but the time she put it payed huge dividends. Her move to the jamming mecca of San Diego gave her a turbo lift to stardom.

Top
---
Best Form Men: Chipper Bro Bell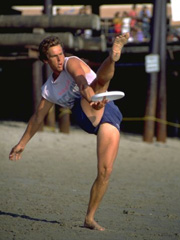 Hyper limber with a stoked out surfer style attitude, Chipper Bro was hot the ¦instant he picked up a disc. He created and perfected his own style. Teamed with Joey Hudoklin and later Crazy John Brooks on the "Bud Light Frisbee Team". Legend has it he could do "monster" before he could walk.

Top
---
Best Form Women: Carolyn Yabe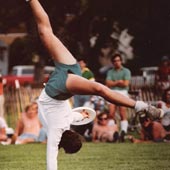 As smooth a freestlyer as has ever played. Never out of step or rhythm. Has an innate ability to know where the disc was at all times. Made for the perfect compliment to Stacy's long and limber style. In a word, elegant.

Top
---
Most Under Rated: Richie Smits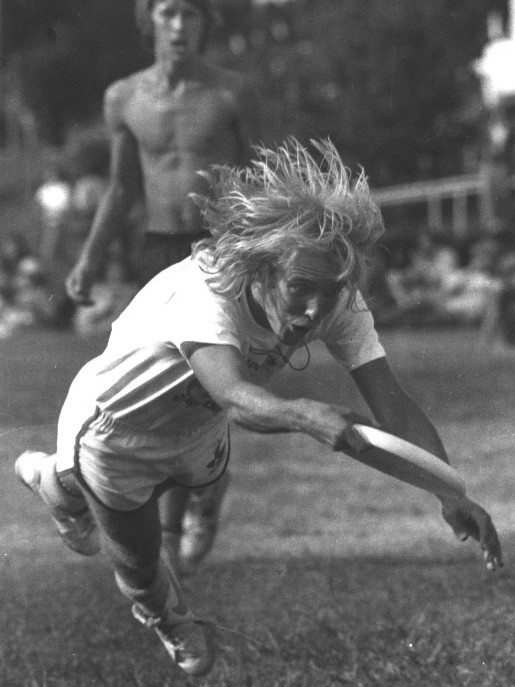 Richie has long lived in the shadow of Joey Hudoklin. If you have studied his game, you would discover the consummate professional freestlyer. He rarely had a bad day. Usually he was featuring his smooth flowing style where there is no wasted effort, just pure freestyle. He can do basically do any move but is at his best brushing counter, tipping and doing precise sets to dynamic catches.

Top
---
Top International Player: Jan Ekman (Sweden)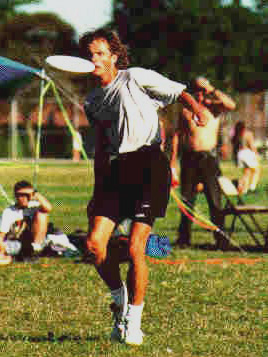 Jan was the first European player to break through into the jamming elite. That he's played at such a high level since the late '70s and into the new millenium makes him even more remarkable. Actually Jan had an even better run of tournaments in the 90's winning two majors ('93 Coop and '93 Mixed, . But his impact in the 80's had a more profound affect on the sport. The general mood of the time was kind of looking over your shoulder wondering if and when the Euro's started to play hard how good could they possibly be? Certainly not as good as us! Jan quickly answered those questions with his inspired play, dedicated work ethic and technical wizardry. He is and will always be known as the original radical Euro. He likely has the most wins of any freestyler ever as a result of his total domination of the European freestyle tournaments. He is now recognized more fully for his influence on the new generation of European players.

Modern '76-'79 | Top