---
The Decade Awards: 1990's
Introduction
I f If the 70's were a time of Innocence and Fruition, and the 80's were the golden age of the sport, the 90's were an age of perfection. The level of play had evolved at an exponential rate. It was during this period of play where what was once thought to be impossible or improbable became common place. The players were for the most part still the people who had either excelled during the previous decade or were fringe players who's time had come. They brought the game to unforeseen levels. The numbers dwindled as the skill levels increased however. During the latter part of the decade, a resurgence of the Junior's division created optimism for the next era. And in a moment of pure genius, an Italian Beach Ultimate tournament in 1998 would feature Freestyle. The results of that event would radically change the sport in the coming decades.


Top
---
Top Men's Player: Dave Schiller
Dave "Rock" Schiller is flat out awesome. Somewhere along the line, this shy fellow from Austin got more fired up than a Texas BBQ. His move to San Diego in the mid 80's catapulted him onto some unprecedented successes. He is still on the short list of hottest jammer in the world, even after all this time.

Top
---
Top Women's Player: Amy Schiller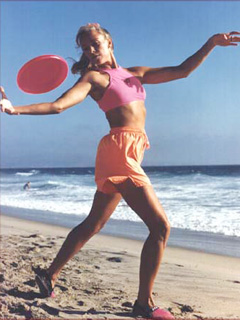 Amy has had a splendid career in disc sports. Originally from Chicago, she started off playing world class ultimate, progressed to Overall where she proved formidible. Looking for bigger and better things, she took to freestyle like a fish to water. The end result is fabulous. She has won 12 major titles all within this decade. This by itself defines her as dominant. And it is no false accomplishment. She has worked harder on her game than anyone and her skill level grew by leaps and bounds as her confidence improved.

Top
---
Top Open Team: Lewis/Arthur Coddington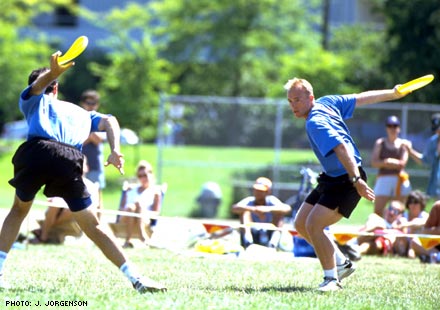 Played consistantly well and traveled extensively. Although no team dominated the majors (20 different players on 10 different teams), this team stayed intact the longest and had the most success during lesser tournaments. In actuality, this team improved over time. They became a mature, confident team capable of winning any tournament.

Top
---
Top Pairs Routine: Dave Murphy/Ted Oberhaus Seattle FPA 1998
The player with the biggest moves on the planet hooks up with the consummate professional and what you get is a routine for the ages. Dave Murphy's phenomenal style complemented Ted "Uberhein's" technical wizardry to a "T". The key element in this was Murph's continued splendid play and Ted's approach as the perfect teammate.

Top
---
Top Co-op Team: Team Sideout (Larry Imperiale/Skippy Jammer/Tom Leitner)
Won everything in sight from 1988-1994. This team lost only one time (Ft. Collins 1994) and won 5 times during that span. High difficulty and low execution errors were the standard of play for this team. The cornerstone of the team was Larry and Skippy who won three consecutive US Opens with a different third partner all three times (John Jewell 1989, Tom Leitner 1990 and Pat Marron 1992). This was actually a 4 person team with little drop off in talent when one of them sat out (Pat was an emergency sub). JJ has been lauded earlier for his exploits on the beach and in the dark. Larry is mentioned below with due credit. Tommy was the young protoge learning from the masters. He would later develop into perhaps the most important freestyle of all time as he influenced the new generation of European Freestylers. One of Tommy's trademarks is his uncanny ability to play on the edge of control.

Top
---
Top Co-op routine: Art of Disc (Rick Castiglia, Joel Rogers/ Dave Schiller) - FPA World's Finals Santa Cruz 1990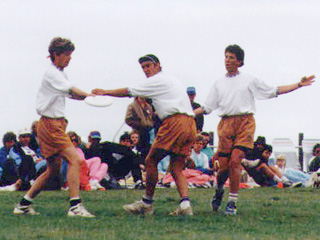 This could easily be the greatest coop performance in history. This was during the time when Art of Disc and Team Sideout were going at each other at every major tourney. Sideout had just won the US Open earlier in the summer by 2 tenths of a point. Fueled by their desire to overcome all obstacles and odds, they beat Team Sideout on their home turf (Santa Cruz) and the rest of the field by an incredible 12 points. Perhaps the biggest margin in history. This was a one drop, pull out all of the stops performance. Certainly their best.

Top
---
Top Mixed Team: Amy Bekken/Dave Schiller
Won four consecutive years (1995-98). Totally dominated the Mixed division in the 90's. This too is a dream team with both of them the top pl ayers of the decade. They also have the intangible chemistry required to win multiple tournaments. As Amy's game came into full blossom, they became as unbeatable as can be possible. Schiller had came up the ranks rather gradually and by now has realized his potential.

Top
---
Top Mixed Routine: Amy Bekken/Dave Schiller
See above

Top
---
Top Women's Team: Stacy McCarthy/Amy Schiller
This was a bit of Old Master and Eager Student. Stacy was still the standard of play even after a maternity leave from the sport. Amy was the up and coming star and they made the most of it. They were hitting on all cylinders. Both long and blonde, they served the perfect compliment to each other. As Amy's technical prowress improved they proved to be unbeatable. They also had fantastic chemistry which is the hardest part to any team.

Top
---
Top Women's Routine: Amy Bekken/Stacy McCarthy
See above

Top
---
Most Influential: Larry Imperiale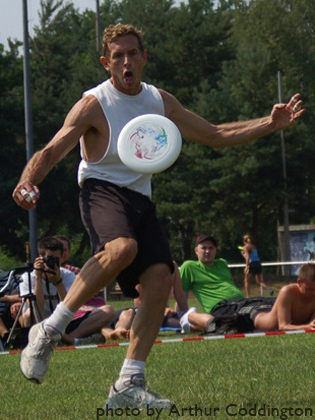 Laerbs is one of a kind. There will certainly never be another one like him. Hailing from the Chico Airheads in the late 70's, his career has blossomed over the decades. His contributions to the sport are too numerous to mention. His partners read like a veritible who's who on the all time list. There is probably no quirkier or identifiable style of play than his. The cornerstones of his game is brushing, scarecrows, cuffs, rolls and gitis, all in large amounts. An intersting element to his game is he rarely used fake nails even though he has minimal natural fingernails. He is often imitated to a degree but never as good as the original. His influence on the sport has grown slowly but is none the less profound. His realm of influence now is international. Indeed, his early travels to Europe have made him an icon abroad.

Top
---
Most Innovative Player: Mikey Reid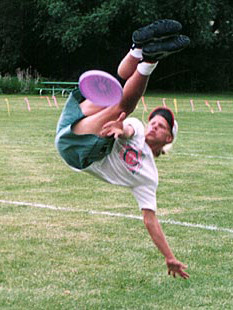 Mikey has so many elements to his game he is difficult to pigeon hole. There is the obvious aspect of his big air catches and crash and burn landings. There is also the consecutive nature in wich he puts his combinations together. And he can skid away until the cows come home. An often overlooked part of anyone's game, speedflow gets full attention by Mikey and he makes it a critical part of his routines. His overall skills are a throwback to a time when players learned from the ground up. His big air repertoire is unmatched. His abilitiy to put together interesting combinations are also an attribute that often is overlooked.

Top
---
Best Beach/Wind Player: Craig Smith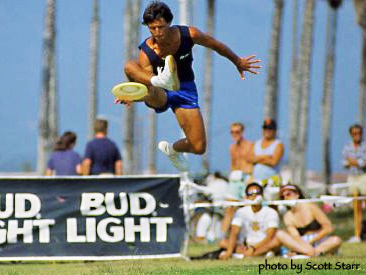 If ever there was a consummate beach player "Captain C" is the man. Can handle any angle, any direction with aplomb. Famous for his "around the world" brushing maneuvers. Exceptional at cuffing, fluffing, rim rides, stalls, rolls, cross sets you name it. Prefers the feathery action of the smaller discs such as a 119 gram 40 mold and Superpro. Also has a very creative catching game. A great team player. Loves to set his partner with pin point passes. Has the distinction of never having done a rimdrag. "Skip the rim Jim" is his response to lazy stylers who go for the easy recoveries.

Top
---
Most Athletic Men: Dave Murphy
"Murph" is just plain radical. The most common expression you see when looking at someone who has never seen him play before is total jaw dropping awe. No one has ever put together such raw talent to a level of such high expression. The cornerstones of his game are huge air and a creative ground game. His play is incredibly dynamic with each catch punctuated by a calculated big power move. Truth be told, he too is incredibly influential. Where flow style used to be common playce, the power jam is now the method du jour. There is simply no way you can hang with the big dogs unless you commit to that style. Hoping for an off day by Murph is folly as well as he is very consistant and constantly rises to the occassion come tournament time. Certainly, no one can match his caliber as a pure athlete.

Top
---
Most Athletic Women: Brenda Savage
Brenda is without a doubt the highest flying, bust a move mode player ever. Buff to the bone and seemingly fearless. She is the epitome of the next wave of women jammers. She has trememdous focus and discipline. Crafted her game during endless Seattle Death Jam sessions at Green Lake with Mary Lowry, Heather Grey and Lisa Hunrichs forming the nucleas of hot women players in the sport.

Top
---
Best Form Men: Ted Oberhaus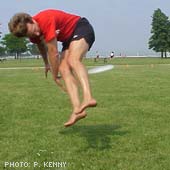 Ted is as gifted a player as you will find anywhere. Among his many forte's are his multiple spins, a fantastic roll game and great delay work. What goes unnoticed to most is his uncanny ability to give perfect sets, either to himself or to his partners. The perfect team player in all regards. The only player who performs barefoot.

Top
---
Best Form Women: Gina Sample
A master freestlyer in all regards. She is literally as good as any woman ever. She is also very influential. Not only to the women's division but the open division as well. Indeed, she is the person who broke through the gender barrier by being the very first woman to win a major title by winning the 1994 FPA pairs with Rodney Sanchez. Originally from Austin Texas, she has had an illustrious career. Winning the 1984 FPA mixed with John Houch with an epic routine. She has won everything there is to win in the sport more than once.

Top
---
Top International Player: Peter Bowie (New Zealand)
Peter first came on the scene in the mid 80's and eventually went on to become the first international player to win a major overall title (Ft. Collins WFDF 1987). That helped inspire his future freestyle career. He is very limber, creative and driven to perfection. The common expression one has when watching him play is stunned silence as he has moves no one else could even dream of doing. 'A trademark move is his upside down gitis pull. Jan Ekman had a tremedous quantum leap in his career by winning two major titles during the 90's. The first European to do so.

Post Modern '80s | Top