Pavel Baranyk / Jakub Sedla'k / Jakub Kos'tel win the co-op, Pavel and Dexter won the pairs and Pavel also edged Jakub Hose'k in the shred at the first ever freestyle tournament in Bratislava, the Slovak Open. Bratislava, Slovakia (Decemeber 1-2, 2007)
Claudio Cigna and Clay Collera' win pairs and co-op with Luca Medri and Fabio and Eleonora win mixed at the freestyle 'Grand Prix' in Forli. Forli, Italy (Nov 24-25, 2007)

Florian Hess and Carsten Heim won the 'JIK Jam' in Cologne, Germany. (Nov 17-18, 2007)
Paul Kenny and Dave Schiller won the Arizona States beating out Dave Lewis and Pat Marron in 2nd and Matt & Jake Gauthier in 3rd. Scottsdale, AZ (Nov 10-11, 2007)
---

Relentless Freestyle 3.1 edited by Dan Burke
---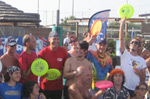 Photos and results have now been posted from the 2007 Italian Open - at Corallo Beach near Rome. Tom Leitner - Florian Hess, Tom Leitner, Lorenzo Apriani and Edoardo Favorini and Fabio Sanna and Eleonora Imazio took home 1st place trophies. Roseto, Italy (Sept 15-16, 2007)



See EFC Results and Pictures - congrats to Fabio & Eleonora, Fabio and Matteo Gaddoni and Joakim, Roland and Clay on their wins. Roseto, Italy (Sept 8-9, 2007)

Carsten Heim edges Florian Hess at the Butch Cassidy Blaster Jam in Germany. Karlsruhe, Germany (Aug 26, 2007)
Carlo Perrone and Luca Trotta win the 1st Salento Beach Cup in Southern Italy. Otranto, Italy (August 11-12, 2007)
Skippy Jammer and Tom Leitner win the OB Summershred event. Ocean Beach, San Francisco, CA (August 4, 2007)
Yutaka Harasina beats out Motohiro Hirabayashi to win the Hero Open. Komaki, Japan (July 28, 2007)
Paul Kenny/Tom Leitner & Bethany Sanchez/Lori Daniels won at the WFDF Championships in Ithaca, New York.(July 14, 2007)
The world-wide freestyle community mourns the loss of long time friend and freestyler Diego Gamboa

Congrats to the 2007 FPA World Champs...
Jake & Matt Gauthier
Antonio Cusma/Andrea Meola/Fabio Sanna
Lisa Hunrichs/Matt Gauthier
Silvia Caruso/Eleonora Imazio.

The Rototom flying disc open was won by Clay Collera/Claudio Cigna in Osoppo, Italy (July 7-8, 2007)
A record 110 competitors competed at the FPA Worlds in Zandvoort, Netherlands. (June 21-24, 2007)
Tom Leitner/Matteo Feller win at Vagolino in Milan, Italy. (June 9-10, 2007)
The teams of Hartmut Wahrmann/Boguslaw Bul and Florian Hess/Christian Lamred/Carsten Heim won at the German Championships in Karlsruhe, Germany where over 50 competitors performed. (May 26-27, 2007)
Roland Karlsson/Joakim Arveskaer won the Swedish Championships (May 26-27, 2007)
Fabio Sanna/Eleonora Imazio & Fabio Sanna/Andrea Rimatori/Edoardo Favorini won titles at "I Lazzaroni" in Bologna, Italy (May 19-20, 2007)
Matt & Jake Gauthier won the pairs and Dave & Amy Schiller won mixed at 'the Jammers' event on Jacksonville Beach, Florida (May 19-20, 2007)
Randy Silvey/Doug Simon/Rob Fried won with an incredible routine at the Virginia States. Fredericksburg, VA (April 14-15, 2007)
Alessandro Damiano and Francesca Cherici win the Torneo di Capello on the beach in Rome / Ostia, italy (April 15, 2007)
Reto Zimmerman/Tom Leitner & Larry Imperiale/Paul Kenny/Carlos "Pipo" Lopez (dropless) had wins at the Paganello Freestyle Challenge - where 60 freestylers and over 1,500 ultimate players competed. Rimini, Italy (April 7, 2007)
Hartmut Wahrmann/Boguslaw Bul edged out Florian Hess/Mehrdad Hosseinian to win the Frisbee Freestyle Masters event in Dortmund, Germany (April 1, 2007)
New web site for the 2007 WFDF Championships taking place July 9-14, 2007 in Ithaca, New York. (posted Feb 18, 2007)
Stepan Materna & Tom Leitner win at the Frisbeer Cup in Prague, Czech Republic. (Feb 10-11, 2007)
Iwan de Moor and Bogaslaw Bul take first at the Boxmeer Jam, in Boxmeer, Netherlands (Jan 21, 2007)
New Supercolor Freestyle Designs! limited edition!
---
Video of Lorenzo, Tom and Mauro at the beach in Capocotta, near Rome, Italy (below). See more freestyle videos on the
freestyle video group on youtube.com.
The 2007 FPA Worlds will take place June 21-24, 2007 on the beach near Amsterdam, Netherlands (posted Nov 14, 2006)
www.AmsterJam.nl
---
Video of UK Discstyler John Coxhead 'Introducing Malawi Orphans To Frisbee Freestyle' for the charity, FOMO (Friends of Mulanje Orphans).
The 2006 News Archives, 2005 News Archives, 2004 News Archives, 2003 News Archives


Learn how to nail delay
The 2010 News Archives, 2009 News Archives, 2008 News Archives, 2007 News Archives, 2006 News Archives, 2005 News Archives, 2004 News Archives, 2003 News Archives